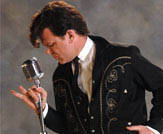 Well, I think John C. Reilly is a heck of an actor, so I'm looking forward to seeing his new Apatow-scripted movie.  A synopsis of the movie (which sounds hilarious) follows; and here is a recent quote from Reilly on the songwriting process:
Q: I know you were involved with some of the songwriting for the movie, and I was wondering if you could talk about the songwriting process as well as your musical background, in addition to your acting background.
A: I grew up in Chicago doing rock community theater and musicals because that's just what everyone did, all through grade school and high school, and studied acting at a conservatory program. So music's always been a pretty important part of my life. It's just recently become more of a part of my career for this.
The songwriting process on this was really cool. We just took it period by period, starting in the '50s and wrote the "Walk Hard" song and "Take My Hand" and the early stuff and got our feet wet, and developed the character with the music from his life.
All along the way, we had this kind of amazing stable of songwriters that would be working on their own, and if they got stuck, they'd come to us. In the '60s stuff, we'd pitch them like an idea. I'd be driving to work one day and get an idea like, "It would be so funny if Dewey was really into women's rights, but just because he wanted to get women to take their bras off!" And the song would be called "Ladies First" and he just gets it all wrong. The two main songwriters* and I would go off to a hotel room for a couple of hours and we would come back with a song called "Ladies First."
*BTW, the songwriters include Van Dyke Parks and Marshall Crenshaw...
GENRE: Comedy

DIRECTOR: Jake Kasdan

PRODUCER: Clayton Townsend, Jake Kasdan, Judd Apatow

SCREENPLAY: Judd Apatow, Jake Kasdan

STUDIO: Columbia Pictures

Synopsis: America loves Cox! In Columbia Pictures' new comedy Walk Hard: The Dewey Cox Story, John C. Reilly stars as larger-than-life musician and songwriter Dewey Cox. Behind the music is the up-and-down-and-up-again story of a legend whose songs would change a nation. On his rock 'n' roll spiral, Cox sleeps with 411 women, marries three times, has 22 kids and 14 stepkids, stars in his own '70s TV variety show, collects friends ranging from Elvis to the Beatles to a chimp, and gets addicted to -- and then kicks -- every drug known to man... but despite it all, Cox grows into a national icon and eventually earns the love of a good woman -- longtime backup singer Darlene (Jenna Fischer).

Cast: John C. Reilly, Jenna Fischer, Tim Meadows, Kristen Wiig, Raymond J. Barry, Harold Ramis, Margo Martindale, Chris Parnell, Matt Besser, David Krumholtz